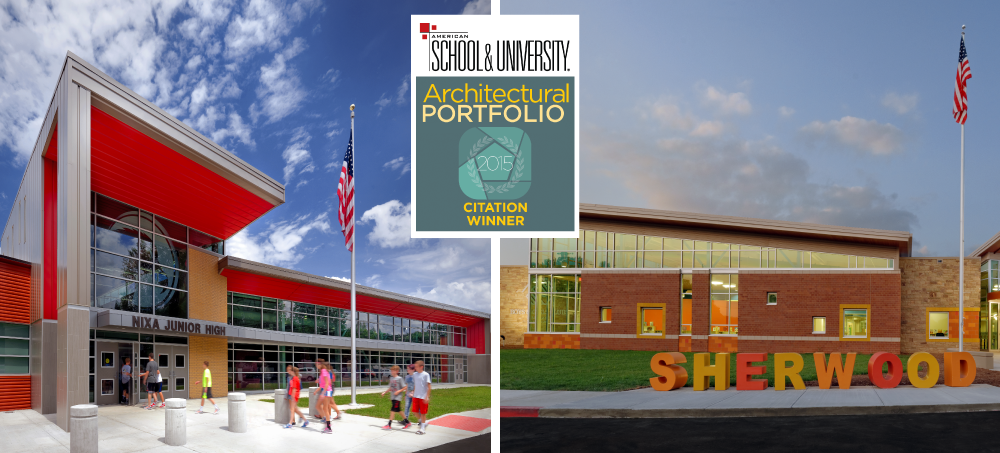 Not 1 but 2!
Posted By bsapp – Dec 29 | 2015
Special Citations for Outstanding Educational Design
Getting recognized on a national level for excellence in educational design is humbling and rewarding experience all at the same time. This year Sapp Design is pleased to announce that we were awarded 2 Citations for outstanding design out of 112 schools submitted to American School & Universities's 2015 Architectural Portfolio.
This years citation winners where selected biassed on the following criteria: Collaborative at both the student and educator levels, personalized learning, project based learning flexibility, active learning/active play/movement in K-12 spaces, STEM, technology, resourcefulness in every part of the building, agility of spaces, adaptation, lifecycle of building and systems, buildings, building/facility that reflects community and functions as center of community,security/safety, learning occurring in every part of the building, age-appropriate spaces, and an appropriate sense of place/culture.
A jury committee of Architects and Educational Administrators evaluated submissions from architectural firms, schools and universities across the country. Of the 112 projects submitted the jury selected two of Sapp Design's projects for Special Citations. The Jury praised Springfield, Missouri's Sherwood Elementary for being "Colorful and Collaborative" and applauded the renovation of Nixa, Missouri's Junior High for "Minimal Intervention provides total transformation"! Having these project called out nationally is a great honor for the Sapp Design team and a strong reassurance to the clients we serve that our team is working hard to design top notch educational facilities.